2023-06-15
Muhr & Söhne - Press release 06/15/2023
First tinplate drums made from CO2-reduced tinplate
Muhr & Söhne GmbH & Co. KG collaborates with Sika Deutschland GmbH and thyssenkrupp Rasselstein GmbH, and uses the CO2-reduced packaging steel bluemint® recycled. This saves 62 percent CO2 eq per ton during the production of the packaging steel compared to conventional steel.
The first sustainable packaging project in the market segment of chemical-technical tinplate containers is based on a joint commitment by Muhr & Söhne, Sika and thyssenkrupp Rasselstein. The CO2-reduction is achieved by using biomethane and a specially processed steel scrap during the production of bluemint®, saving a large proportion of iron ore and coking coal in the blast furnace.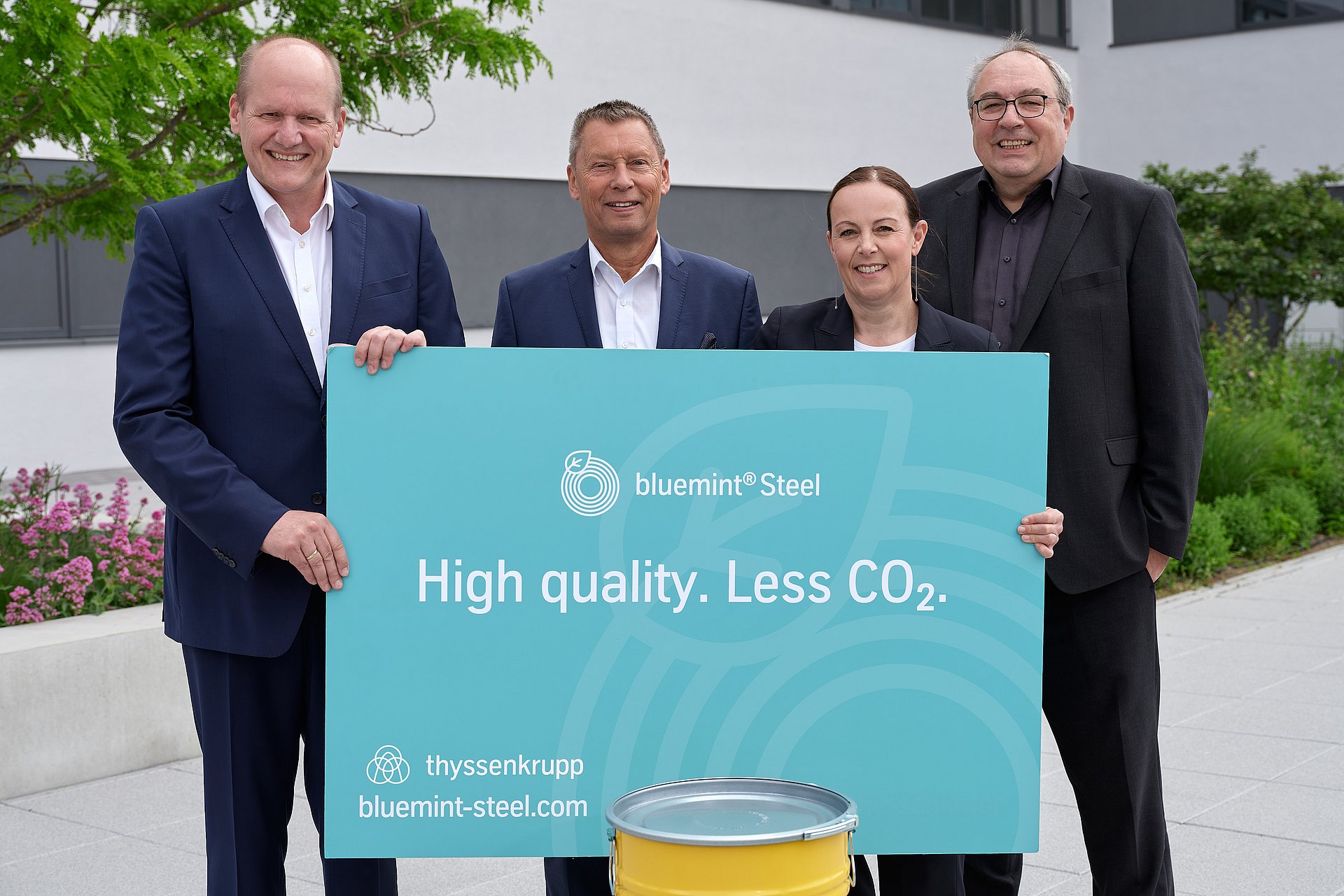 "Sustainability is a key issue for many people and it has always been at the heart of our business strategy. For instance, thanks to a patented design, we produce tinplate containers with significantly reduced material usage at very high performance levels and have thus been conserving resources for many years. Additionally, we have been generating solar power in excess of 1 giga-watt per year on the roofs of our production halls for more than 12 years. Today we are very proud to be the first manufacturer of chemical-technical tinplate containers to generate added value for Sika by using bluemint® Steel from thyssenkrupp Rasselstein and to significantly improve our carbon footprint," says Klaus Wilmes, Managing Director of Muhr & Söhne GmbH & Co. KG.
Daniela Schmiedle, Managing Director of Sika Deutschland AG, said, "The collaboration is very much in the context of sustainable packaging and is related to achieving our company's net zero targets. We are pleased to have initiated a significant contribution to this with our long-standing partner Muhr & Söhne."
"By using the new bluemint® Steel, CO2-emissions during the production of tinplate containers can be significantly reduced," explains Dr. Peter Biele, CEO of thyssenkrupp Rasselstein, " making tinplate even more sustainable." The specific emissions for the material are externally confirmed and certified by TÜV SÜD. Packaging steel is also the European leader in terms of recycling rates: 85.5% of tinplate packaging is recycled. This makes tinplate packaging the most recycled packaging in Europe.
Would you too like to convert your containers to CO2-reduced tinplate and thus make an important contribution to sustainability? - Please feel free to contact us!
About Muhr & Söhne:
Muhr & Söhne GmbH & Co.KG is a specialist for hazardous goods packaging made of steel and tinplate. On a production area of over 50,000 m² with more than 20 production lines, we manufacture containers in 12 different diameters for filling quantities of 1 to 250 liters and employ around 240 people at three production sites in Attendorn (NRW) and Ohrdruf (Thuringia).
Our customers choose from more than 2,000 different types of packaging. We hold numerous approvals for the transport of solid and liquid hazardous materials by land, air or sea for all modes of transport.
If you are looking for increased efficiency beyond the norm with automatic closing of lidded containers, you will close better, faster and tighter with MUHR closing technology. Our closing machinery is designed according to the modular principle and can close cans, pails, hobbocks or drums made of tinplate and steelplate in capacities ranging from 1 to 110 liters with diameters from 160 to 450 mm. All this with a single machine that integrates seamlessly into your production line.
The core of Muhr & Söhne lies in our convincing business philosophy. Our flat organizational structure enables quick decisions. We stand for continuity, credibility and reliability, complemented by our entrepreneurial vision and innovative strength. Our quality management system, recognized in accordance with BAM-GGR 001 and certified in compliance with DIN EN ISO 9001:2015, vouches for outstanding quality.
About Sika:
Sika is a specialty chemicals company, leading in the development and production of systems and products for adhesives, sealing, damping, reinforcing and protecting for construction and automotive industries. Sika has a global presence with subsidiaries in 101 countries and production in over 300 factories. Its more than 27,500 employees generated annual sales of CHF 10.49 billion in 2022.
In Germany, Sika is represented by Sika Deutschland GmbH and nearly 1,500 employees. Sika Deutschland GmbH has also made it its mission to demonstrate ways and solutions that enable sustainable construction - in terms of water management, energy saving and climate protection. Sika Deutschland GmbH has been a member of the German Sustainable Building Council (DGNB) since 2010.
About thyssenkrupp Rasselstein:
thyssenkrupp Rasselstein GmbH is one of the world's leading suppliers of high-quality packaging steel manufactured with precision. The site in Andernach, Germany - the world's largest production facility of its kind - annually produces 1.5 million metric tons of packaging steel. Our 2,400 employees serve approximately 400 customers in 80 countries in a variety of markets - from manufacturers of food and pet food cans, to producers of beverage and aerosol cans, containers for chemical-technical filling goods, as well as coron caps and twist-off closures. Expert teams in service, sales, and technical customer support complete the product portfolio. They work closely with customers to deliver on our promise of consistent quality and reliability worldwide.